faster upselling with CorrectionsMedia
CorrectionsMedia is the single most powerful and innovative media network dedicated to the $60 billion-a-year corrections industry, with the power to create and deliver your message in every medium. Atleast that's what they became after we wrote it and they sold it!  Yup, these are the same guys who started Corrections.com only they couldn't get advertisers to see them as anything more than a publisher of ads.  So we created an umbrella brand that aggregated the entire publishing industry under their CorrectionsMedia ad placement network. Then we explaioned the transition with a simple Flash movie helping to shorten the sales introduction and quicken the sale. Then we made a highly interactive services page that gave customers a 60-second "i get what they can do" view.   Results? 4 new successful product lines and steady upward revenues since its launch.
Goals: CorrectionsMedia wanted an online presence.
Results: Branded CorrectionsMedia and launched a new website complete with flash and video.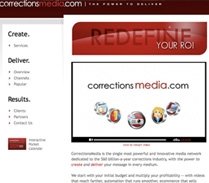 Tags: content strategy, html/css