efficiency and revenues at Best Plumbing
Market: industrial
Best Plumbing Specialties is one of the largest independently owned plumbing specialty houses in the country with sales representatives in more than 25 states.  ::play:: has collaborated with Best Plumbing as far back as we can remember.  Based in Maryland these are an awesome group of people.  These guys toss tiny airline-sized bags of "nuts" inside every plumbing part shipped.  And yes, customers call when their free nuts don't show up in the box.  They've built a whole identity around those tiny nuts. Love these guys!
::play:: and Best Plumbing  have teamed up several times to launch a GSA shopping online —  elearning — online automation w/ the sales team — ibuy integration with NY University and —- a green site to boot.  Now while they sleep, their website is working OT.
Plus their marketing pioneer, Bal, is also a big-time barbecue-grillin' machine. His nickname? The Patio-Daddy-O (yes he cooks on those big grills that you hitch to the back of your truck at competitions. And they even have regular monthly cook-outs for their employees.  Bal - if you're reading this we hope you'll write in and send a picture of you behind the grill.
So next time you need a plumbing part…check these guys out. And enjoy the nuts! We look forward to many more great collaborations with the Best Plumbing team! And more grillin recipes (like the cilantro grilled corn on the cob!)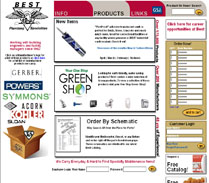 Tags: custom application development, ecommerce, flash, user interfaces, web